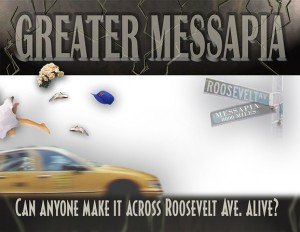 Greater Messapia 
Written 1999-2000
Cast of eight (four male, four female)
In Elmhurst, Queens, the last Messapian family tries to find a bride for its only son before he turns eighteen. Will he make it to altar or face a ritual beheading? Is the next door neighbor truly out to erase the Messapians from the earth? And can anyone make it across Roosevelt Avenue alive? A wild comedy about assimilation and ethnic identity, Greater Messapia explores the immigrant experience from an entirely unexpected angle.
In August 2000, "Greater Messapia" received a reading at The Flea Theatre in New York, directed by Anne Kauffman. It was a finalist for the 2002 Bay Area Playwrights Festival. It received a staged reading at Queens Theatre in the Park, February 2003, directed by Davis McCallum. A showcase production of "Greater Messapia", opened in March 2004 at Queens Theatre in the Park. Jonathan Silverstein directed.