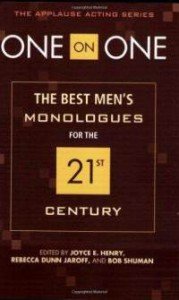 A monologue.
Published in One on One: The Best Men's Monologues for the 21st Century
I get asked about this a lot – is it from a longer play? The answer is no – it's just a monologue. The full text is below.
Script Excerpt

MAN
So I guess I'll start with an apology. A blanket apology. We can get into specifics as we go along. There are specifics I know, long-seated matters that…anyway…
He holds up a tomato
Straight from the Farmer's Market. Consider it a peace offering. Want a bite? You sure? Your loss.
He takes a bite out of the tomato.
They call these heirlooms, meaning they haven't been crossbred into red tasteless oblivion. Not so pretty, and not so durable, no good for trucking in from Mexico, but texturous and tasty, a tomato worth the money – I made a pitcher of gazpacho the other day – remember my gazpacho? This one was twice as good as usual– really incredible flavor – I used the super-ripe ones from the bottom box – only a buck a pound after 5pm – if we stick around for a bit we can buy some – quite a savings. I would've made you a batch if you'd come by, but with you insisting on a "neutral location", and me having to lug this duffel, well I wasn't as inclined as usual to sacrifice my Tupperware.

Mother was asking about you – I said that as far as I know you're well, and she responded "as far as you know?", and I said well, yes, that's right, truth is we're not exactly speaking, that truth being, truth be told, a kind of a white lie since I am in fact speaking, right now, as we speak, but of course you, bless your black heart, are here, and that does count for something. I guess.

Speaking of textures, I ironed your clothes. Folded them too. Socks, underwear, bras skirts, tops – everything, starched, folded and ironed. I was careful and thorough, lingering – it took me half the night. Very educational – sometimes I iron my own, but it's just a quick pass-over, kind of like my cooking, just good enough, but nothing worth sharing, but when you're doing it for someone else – I think you'll be happy.

About those calls – I do want to apologize – they weren't necessarily intentional, which is not to say that they were unintentional, but rather that I got a bit ahead of myself. Two years from now, when all of this will be forgotten and enough assholes will have passed through your life that your memory of me will be almost fond, that will perhaps be a better moment to call – and I assure you I will call, from wherever I may be. But I suppose that now it's not entirely appropriate, right, though truth is, knowing you, even though it was 3am, I am SURE that you were up, watching the phone as it rang, and I know you knew that it was me, suffering, in grave despair, and for you to ignore such a plea is, to my mind, well, callous. Carrot?
He munches on the carrot.
Tasty – you sure you don't want a snack? You can never eat enough carrots. And then of course there's the other night – and apologies are due for that too – he looked like a nice fellow – strong – though maybe a bit old for you, I saw the bald spot, and even from the doorframe I could smell his feet – anyway, here are the keys – last copy I swear it.

You can keep mine – it's okay. Though like mother always used to say, best if you call first, as you never know, you really never do know, what with all this organic food, me too, I could be strong too. Thanks are due to you for this – you who taught me the difference between kale, chard and collards – and now – as I'm sure you can see from my skin tone, those complex nutrients course through my veins. Here, feel my texturous arm. My blood is racing. And maybe it's the leafy greens or maybe it's you – cause you still do affect me – your scowl, your tapping foot, your light sheen of sweat – I love your sweat, always have. Don't worry, soon enough it'll be cool – the day, it will pass, the week, the month, summer, the year, two years, and then your phone will ring – happy birthday, I'll sing. Happy birthday. Pick up this time, okay?