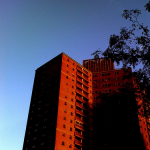 Written in 2002
Cast of seven (five male, two female)
Mosesville, a black comedy, takes place in a crumbling vertical city-state run by the aging autocrat Robert Moses. A rebellion brews in Mosesville's subterranean depths, with plagues bubbling up from down below. When Robert Moses abdicates, Helen of Mosesville, Robert's long forgotten daughter, is forced to choose between revolution and the mantle of state, between her convictions and her family, between love and power.
Much of "Mosesville" was written while Andy was part of the Lark Playwrights Workshop. The first public reading was held at the Nagelberg Theatre, at Baruch College, in May 2003. It was directed by Ron Orbach. Reading at NYU Tisch as part of the hotINK festival, January 2004, directed by Davis McCallum.
These days I live in a big middle income housing complex. Mosesville was inspired by the architecture of the complex, and the voices I heard within its buildings. Robert Caro's The Power Broker was important too, as was the rebellion in Chiapas. 9/11 was too, I think, in a subconscious kind of way. It was in the air, and in my head. This is a sort of "lost play" of mine. I wrote it right before graduate school, and never had a chance to come back to it. It's absurdist, and obsessed with ideas – another one of the plays I hope I get a chance to revisit someday.