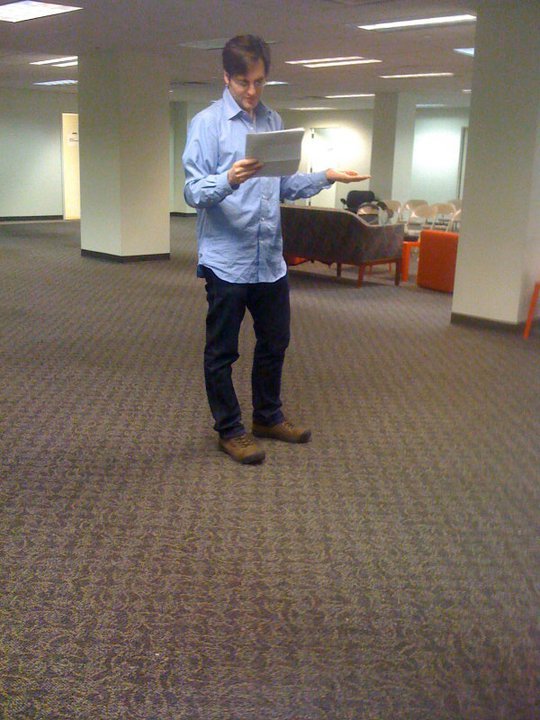 Written 2009 – 2010
Cast of one (male)
Production at Brown/Trinity Playwrights Rep in July 2010. Production at Studio Roanoke in May 2011.  Production with The Play Company: November/December 2013. See production photos here.
JUNE 2014 Addendum: Look for great production photos in the upcoming issue of Chance Magazine (Volume 3).  Also, congratulations to David Barlow on his Drama Desk Nomination!
"When I found out I was chosen, I was over the moon". Granted a nine month residency in an abandoned office space near Wall Street, the playwright Andy Bragen starts his year with bright hopes, but soon finds himself succumbing to doughnuts, lethargy and a paralyzing sense of deja vu. This is My Office is a metatheatrical exploration of fear, gluttony, art and a legacy of failure.
The photo is of me reading a few pages from this play in the space that inspired it. The space no longer exists in the same form, and the play is written for an actor to play "Andy Bragen", so probably I won't be reading it anywhere again.
Script Excerpt

Welcome. I'm Andy Bragen. This is my office. Well, my literal actual office is over there, see there's my name on the door, but you get the idea. I'm in this space thanks to the Lower Manhattan Cultural Council. They bring arts downtown to the Wall Street district, filling it with cultural events, exhibitions, performances of all sorts, and artists. Like me, and my friends here. We get studios, which is to say offices, for nine months, to do whatever the hell we want to do in. Which is exactly what I'm doing. I come here most weekdays, generally during business hours. And while I'm here, I read periodicals online, check my email, and update my Facebook page. I pace back and forth, take regular bathroom breaks and tea breaks, and sometimes go out for coffee, or lunch. Pretty much what everyone does at any office, right? Or so I'm told. Truth is I've never really worked in an office before, aside from a home office. So office culture, or rather non-home-office culture, is somewhat foreign to me.

Not that we have that here. I mean, technically we're in an office, but in reality it's more precisely the memory of an office, a palimpsest of previous commerce. But even if the space is abandoned, it still has that office feel. Just pay attention to the details; it's all right in front of you. The neutral carpeting, so easy to vacuum and maintain. The wide open space in the middle where the cubicles were. The kitchenette. The stockroom (I love stockrooms). The modular conference rooms, with space for hanging coats, projecting transparencies and laying out snack trays. The private windowed offices for the mid-level executives, and of course the corner office, with the East River view, and its own executive bathroom. Some bigwig was in there for sure. It's just down that way. Never fear, I'll take you there in a little while.