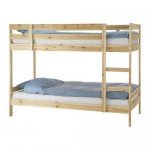 Written 2007-2009
Cast of two (One man, one woman)
A husband and wife whose chage becomes an unsettling and gripping dark comedy about two people who love each other to distraction.
Initially developed with Electric Pear Productions. Workshopped at Sewanee: The University of the South in April/May 2009. Workshop with Joanna Adler and Rob Campbell in the Lower Manhattan Cultural Council Workspace: June 2010. Workshops with A Red Orchid and The Playwrights Center in autumn 2010.
I loved sleep away camp. I used to go for as long as I could. These were tough years, I would learn later, for my parents. They split when I was 13. Remembering those years, and imagining them, was one of the starting points for Visiting Day. I was also inspired by Like a Butterfly, My Nostalgia, a play about a husband and wife that I'd just co-translated.  And having worked on a production of Vengeance can Wait, I wanted to write a play with a bunk bed. When I was a kid, I had one.  I'm an only child, but for some reason, I'd really wanted one.